Go indigenous, go native, get away from the beaten path.
Sit in ceremony with the Wisdomkeepers and receive great initiations and rites of passage that connect us to an ancient wisdom tradition – a wisdom tradition for communing with mother earth and for embracing the highest dimensions of your spirit.
Experience grand temples where we pray and meditate, where we tap into that great cosmic body of wisdom in sacred space.
In these ancient places where men and women have gathered to pray for millennia, where their energy is so palpable and so extraordinarily strong, we can awaken the divine qualities within us. 
April 8-13, 2022
AMAZON
ONE SPIRIT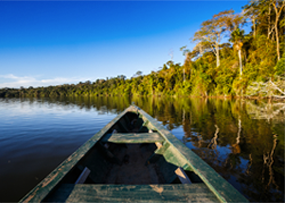 With Marcela Lobos
and Jo Bowlby
Explore the hidden realms of shamanic awareness. Work side-by-side with accomplished indigenous medicine men and women to learn shamanic cosmology and healing maps. Like the jungle jaguar, track a destiny for yourself, and craft an original story for the next chapter in your life.
Open only to students
April 14-21, 2022
VIA ILLUMINATA:
SHAMANIC WISDOM
& SACRED MANTRA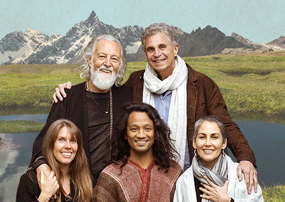 With Deva Premal, Miten, Marcela Lobos, Dr. Alberto Villoldo and the Q'ero Shamans.
Explore the wisdom of the ancients in sacred temples in the clouds. Come into harmony with the original sound of the Universe in a feast of music and shamanic wisdom. Sit in ceremony with medicine men and women and receive the rites of initiation of the Earthkeeper
Open to all.
April 22-29, 2022
LAKE TITICACA:
BIRTHPLACE OF THE
CHILDREN OF THE SUN
With Four Winds Senior Faculty Marcela Lobos and Tantric Yogini Monika Nataraj
Rise anew with this women-only expedition to lake Titicaca, the sea on top of the world where the Sun and the Moon gave birth to the first Inca and Coya. Journey to visit the river of consciousness, call on new life at the Temple of Fertility, and experience great healing at the Island of the Moon.
Open to students, participants of Via Illuminata and others by application.

"The journeys we are making are not only archeological, and cultural, and anthropological, they are deeply transformative. The work we do in our journeys is to dream a new world in to being. If you want to be part of this revolution that is taking place today, where you are going to be informed directly into a global mission that we are all carrying to dream a new world into being, this is the laboratory that I want to invite you into, that I want you to come and join me in. Because here is where we incubate, not only our own healing but a new human that is appearing on the Earth today."
—Alberto Villoldo, Ph.D.